Procedure for using proudly co-operative logo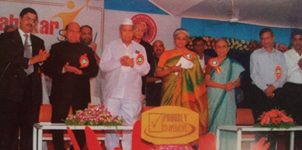 Launch of "Proudly Co-operative" logo by Smt. Usha Thorat, Dy. Governer, RBI.(from left) Mr. Jagdishchandra Mehta, Vice Chairman, Mr. Jyotindra Mehta, Chairman, Mr. B. Srinivas, RD, RBI, Mr. Sisodia, President, NAFCUB, Mr. Jairambhai Patel, Veteran Co-operator, Mrs. Lilaben Bhatt, Founder, SEWA, Mr. D. Krishna, CEO-NAFCUB, Mr. Kantibhai Patel, Director.
In a unique step the Federation has got the "Proudly Co-operative" Trade Mark registered in its name by the trade marks registry of India.
This trade mark is being licensed by federation for use by Co-operative organization across geographical regions & sectors that fulfill prescribed parameters of performance.
In the last 5 years the Federation has taken upon itself the responsibility of creating a strong Co-operative Brand not only in Gujarat but on a national scale.
The federation is actively working to consolidate and strengthen the "Proudly Co-Operative" Brand which should ultimately result into high recall and pride for those associated with the Co-Operative Sector.
Any Co-Operative Organization interested in using the logo "Proudly Co-operative" may kindly click on the link given bellow
IMPORTANT FILE
Details regarding the PROUDLY CO-OPERATIVE LOGO
Download